Keynote Lecture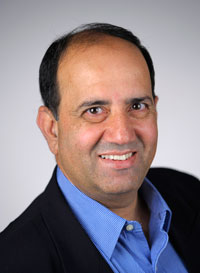 Cell and Gene-Based Treatment of Retinal Neurodegenerative Diseases
Anand Swaroop, Ph.D., Senior Investigator
Chief, Neurobiology-Neurodegeneration and Repair Laboratory
National Eye Institute (NEI)
National Institutes of Health (NIH), Bethesda, MD, USA.
Brief Biographic Sketch
Dr. Swaroop obtained his Ph.D. at the Indian Institute of Science in Bangalore, India, and postdoctoral training at Yale University. He joined the University of Michigan in 1990 as assistant professor in Ophthalmology and Human Genetics. He became full professor in 2000 and Harold F. Falls Collegiate Professor in 2003. In 2007, Dr. Swaroop joined the National Eye Institute as Senior Investigator to establish a new program in retinal development and knowledge-based treatment paradigms for retinal degenerative diseases.
He has received several honors, including the Board of Director' s award from The Foundation Fighting Blindness, the Harrington Senior Scientific Award from Research to Prevent Blindness, and Distinguished Faculty Lectureship Award from the University of Michigan Medical School. Dr. Swaroop leads the "Neurobiology Neurodegeneration & Repair Laboratory" of the NEI. The goal of his research team is to develop novel treatment modalities for blinding retinal diseases based on a fundamental understanding of genetic defects and/or biological pathways underlying differentiation, homeostasis, aging and disease pathogenesis
Specialties
       Retinal development
       Regulation of gene expression in the retina
       Genetics and disease mechanisms underlying inherited retinal and macular diseases
       Aging of the retina
       Age-related macular degeneration
       Diabetic retinopathy
Current Projects
Dr. Swaroop is investigating how stem cells develop into nerve cells (particularly photoreceptors) in the retina, how these neurons connect to each other, and how they become dysfunctional or die during aging or in disease conditions. His goal is to use this understanding of biological pathways of differentiation, homeostasis, aging, and disease pathogenesis, to develop new treatments for blinding retinal conditions.
For more information, visit the Neurobiology Neurodegeneration & Repair Laboratory web page.
Publications
Dr. Swaroop has authored over 200 peer-reviewed research papers that have appeared in journals such as the Nature Genetics, the New England Journal of Medicine and the Proceedings of the National Academy of Sciences. He has also served as a reviewer of scientific publications for major journals, including Science and Cell.
Research Highlights
Uncovered several genes and variants that increase the susceptibility for age-related macular degeneration (AMD). Through genetic and genome-wide association studies, major biochemical pathways have been revealed and may be targets for future AMD treatments.
Identified genes for several types of retinitis pigmentosa, a group of inherited retinal degenerative diseases and the gene for a common form of Leber congenital amaurosis, a childhood blinding disease. Currently involved in identifying disease mechanisms and developing treatment paradigms using gene therapy, cell-based therapy, and small molecule screening.
Discovered how certain genes and molecules control the development of light-sensitive retinal cells from stem/progenitor cells in the eye.